Intuitive Jewelry:
I create unique, personal and empowering pieces of fine jewelry. My sensitivity is my main tool to feel into what will bring you strength and the jewelry I make will be your constant reminder of your true value and worth.
I have a Masters degree in fine arts focusing on metalls so your creation will be a piece of art just made for you!
The first meeting is about you, your desires, your fears and your personal story. If you feel open for it, I will use my tarot card for more in depth guidance. Be open to whatever comes and be sure that everything needed will appear without any effort.
You can decide to just take this with you OR to proceed to the second stage of creating you own personal talisman. Price for this session is 1500 kr.
For long distance meetings we will meet online.
Second, we decide upon what price category that you wish to have for your creation. I have three price ranges depending on how much work I will put in the creating process of your piece.
1. The simple one: 1000 kr
2. Medium high: 1800 kr
3. De Lux: 3500 kr
The final stage: I will receive images that I will use to create your own personal empowering talisman! This unique piece of jewelry will be in tune with your core value and empower your true desires.
For more details go here: https://tittib.com/how-this-works
Sound healing journeys: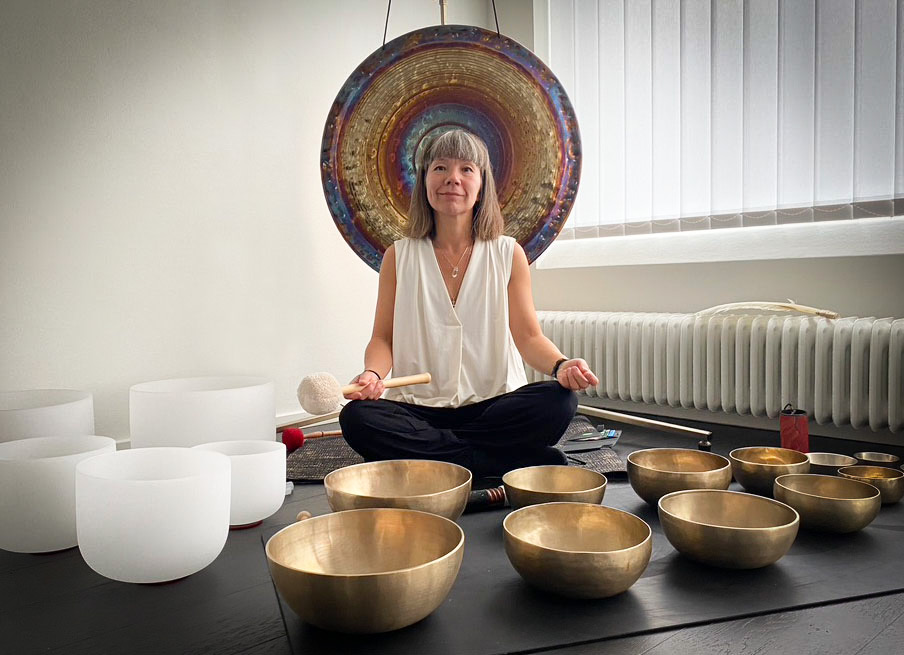 I will take you to a journey into your inner sanctuary using sound vibrations from Tibetan + quartz crystal singing bowls and my magestic Gong. The singing tones will carry you to a place where your mind will rest and your spirit awaken to create healing on a cellular level. This experience goes beyond words.
No matter is you have any prior experience of meditation or if you are an experienced yogi, the vibrationes of the singing bowls will relax your mind deeply.
This type of sessions can be performed for multiple people anywhere from yogashalas, schools, home environments, nursing homes, palliative care and many other places. All you need is a space to lie down and a warm blanket.
Why not take your colleagues far a shared moment of tranquility and travel through time and space without moving from your office?
Scientific evidence suggests positive health effects such as improvements in blood pressure, heart rate, respiratory rate and even pain reduction for people suffering from cronical pain just by relaxing to the soundvibrations of singing bowls.
90 minutes session on demand: 3500skr / 350€ + traveling expenses
(This experience is perceived at best in real life)
Svenska:
Följ med på en magisk resa in i din inre rymd.
Med hjälp av tonerna och vibrationerna av klangskålar och gong landar du in i ett djupt tillstånd av vila och återhämtning. Ljudvibrationerna för dig till ett meditativt tillstånd oavsett om du mediterat tidigare eller ej.
När du landar i detta avslappnade tillstånd i kombination med klangvibrationerna tar kroppens egna läkningsförmåga tar vid och du kan släppa taget om dina tankar. Du behöver bara ligga ner, ta emot och följa med på resan.
Vetenskaplig forskning påvisar goda stressreducerande effekterna på dessa typer av ljudupplevelser.
Alla har möjlighet att delta i dessa klangresor oavsett fysisk förmåga!
Prisförslag på en 90 minuters klangresa på förfrågan: 3500kr / 350€ + resersättning
Healing through the energy of Gaia
Let me help your body to ground and connect to the place beyond time, space and idientity.
I use my tibetan bowls, therapy tuning forks, my hands and voice to call your soul back in to your body. My voice channels the energy of mother earth Gaia and heart frequency to hold space for healing to occur.
You will lie on a bed of crystals, infra red light and electro magnetic field that generates the earths own frequency which creates a calming sensation throughout the entire body.
One session takes 75 min and costs 1100 kr at my place in Björkhagen.
I can also come to you if you live close to central Stockholm for a cost between 300-600 kr.
Svenska:
Låt mig hjälpa dig att landa och ta dig till en plats bortom tid, rum och indentitet.
Med hjälp av mina tibetanska klangskålar på kroppen, mina händer och röst kalibreras din kropp och själ för att landa och ta emot healing.
Min röst överlämnas åt moder jord Gaias helande vibration och möter dig bortom egot.
Du ligger på en madrass av kristaller och infraröd värme. Madrassen genererar även en lågfrekvent elektromagnetisk puls på 8Hz (Frekvensen på jordens egna magnetiska fält) som är mycket lugnande och välgörande under din behandling.
En behandling tar ca 75 minuter och kostar 1100kr hos mig i Björkhagen.
Jag kan även komma till dig mot en resersättning på mellan 300-600 kr inom Stockholm
Tarot readings:
I give intuitive tarot readings online or irl. The sessions takes about 40 minutes and I will guide you into what the cards represent in your present life. For me, the tarot is about clarifing what we are going through rather than predicting the future. We all have free will in mind and I believe that we are able to guide our lives and not merely be victims of our circumstances.
The tarot helps us to zoom out and see the bigger picture in our every day lives.
Online video chat on messenger: 500 kr. IRL in my studio: 750 kr
Yoga services:
I have practiced yoga since 1991…long before before the arrival of yoga pants!
My practice as a yoga teacher started 2010. Since then I have been teaching hatha-, yin-, vinyasa flow-, pre and post natal-, ashtanga and teenage yoga.
My expertise and personal favorite style of teaching lies within intuitive hatha, yin, prenatal and teenage yoga.
I believe that most of our common health issues in our modern society like weight issues, anxiety, sleeping problems, eating disorders, IBS, migraines are caused by stress. This happens, in my opinion, when our true needs are not aligned with our minds. We humans most often need inspiration and support to be able to connect but also to respect our true needs.
I am happy to be able to guide you into taking the necessary steps towards contentment to a life aligned with your true values.
Private classes: 90 min 1000 skr / 120 USD+ traveling expenses
Groups of 10<: 90 min 200 skr/20 €/24 USD per person + traveling expenses
I will come to you for private classes or for group arrangements. I also collaborate with Yogarummet in Stockholm and can organize classes for groups in one of their studios in Björkhagen or Bagarmossen. Groups of 10<: 90 min 300 skr/30€/35 USD per person